Our commitment to you doesn't stop when you leave the store with a Brother product. We support our products. That means we support you.
Our up-and-running commitment
We're committed to being at your side from the moment you purchase a Brother printer. Our up-and-running commitment is proof of that.
If you call us after purchase, we'll do the set-up of your printer for you. We have unique software that allows us to remotely connect to your computer so we can fully set up your printer. It means no hassle, you don't have to do anything, and it takes no time at all!
Our 4-year warranty commitment - Print
We won't let you down once we've got you up and running
When you purchase a Brother machine and use our genuine inks or toners, we'll support you every step of the way with our 4-year warranty commitment, unrivalled by other print brands.
With Brother, you can have peace of mind that we are always "At Your Side". To keep your Brother machine running in optimal condition we recommend using only genuine Brother Consumables. By using Brother Consumables, you'll automatically enjoy our exclusive 4-year warranty. Please read full terms and conditions here.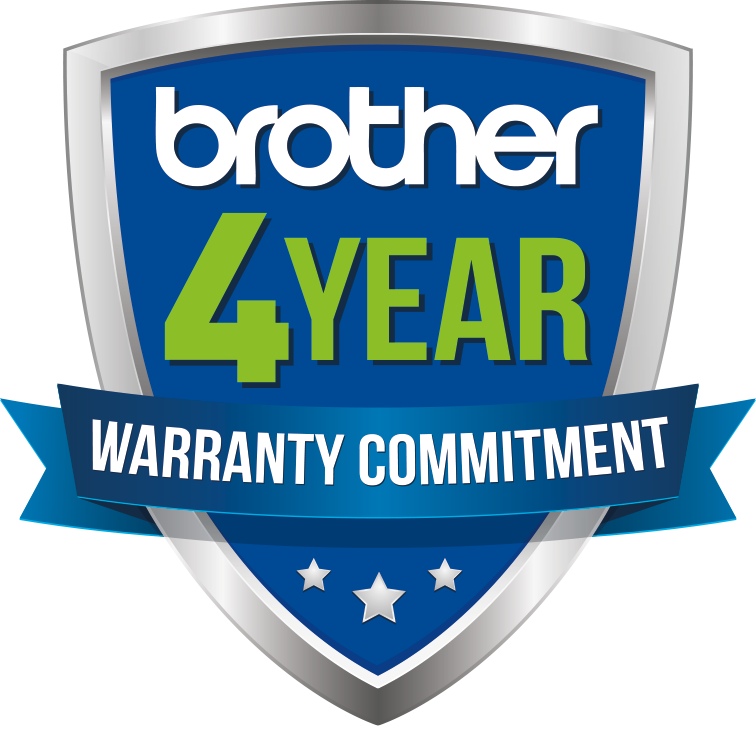 A note on non-genuine consumables
Brother has the most responsive customer warranty offer in the market. Part of our commitment to you, is to provide exceptional service and unrivalled warranty support. We do this by offering a 4 year warranty if you use genuine Brother consumables.
We at Brother are aware of some compatible and refill companies suggesting that your Brother warranty is preserved, even if you should use non-genuine Brother inks and toners.
This misrepresents the situation – the use of non-genuine consumables will affect a warranty claim for any of the direct printing functions of your printer. We are not able to guarantee the performance of other people's products, or the damage they might cause, if used in our machines.
In the event you chose to use compatible or refilled products in your Brother machine, your eligibility to participate in our 4 year warranty promise becomes void. While your warranty would reduce to a standard 12 months Return To Base warranty, even this would not apply if the presenting fault is attributable to the non-genuine consumable you used.
A safe way to ensure that you are buying genuine Brother consumables, is to look for the Brother logo on the packaging. If the product does not have our logo, it is not genuine and may void any warranty claim. If in doubt, you can contact our Helpdesk Team on 0800 33 44 276
Avoid future hassles and cost by ensuring you use genuine Brother consumables – you'll also have Brother's 7 day helpdesk and technical support team at your side.
Our 4-year warranty – Label Makers
When you purchase a Brother label maker machine, our commitment to you continues well after you leave the store. We are so confident in the quality of our products that we provide a 4-year warranty commitment on all our label maker machines from date of purchase. Just give us a call or visit the store of purchase for more info.
Our 4 year warranty – Sewing & Craft
We're committed to being at your side from the moment you purchase a Brother Sewing or Craft Machine. Our sewing and craft machines are fully warranted against defective materials and manufacturing faults for 4 years from the date of purchase. For full terms and conditions, click here.